Home Energy Efficiency is the 1st Step of Being Green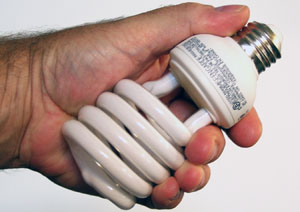 The least expensive method to reduce energy costs is by eliminating wasted energy. In cold winter climates, such as Northeast Pennsylvania, concerns are the highest with heating our homes, providing hot water, lighting and then general electrical usage.
To be as practical and economical as possible, we'll look at the changes you can make in your home that will have the greatest improvement when compared to the cost associated with making the change.
Most of the recommended changes are items you can easily perform on your own, helping you to keep your home improvement and energy conservation improvement costs low. Still, don't let a few dollars stand in the way of saving and conserving energy. If you have a problem only a pro can handle, make the call. In the long term, you will generally get your money back, plus you will be helping the world be a greener place to live.
Your household temperature should not be easily affected by the temperature outdoors. You can insulate better and prevent outdoor temperatures from penetrating through your walls, ceilings and floors.
Tell me more about The Value of Insulating Your Home
Reducing the amount of air that is freely moving into or out of your home is a vital step in lowering your heating and cooling energy costs. There are a few quick and painless ways to seal unnecessary leaks.
Tell me more about Infiltration and Unwanted Outside Air
If you can change a light bulb or unplug a cord, you have all that is needed to easily benefit from updating your lights and appliances to more energy efficient types, even if you are not a handyman.
Tell me more about Replacing Inefficient Lighting and Appliances
Even when the computer is shut down, our computer, monitor, printer, sound system, external drives, scanners and other peripheral devices sit quietly in the background consuming power, even if we do not use the computer for days.
Tell me more about Reducing Wasted Computer Power Costs
<- See All Steps of Being Green