The Value of Insulating Your Home
Your household temperature should not be easily affected by the temperature outdoors. You can insulate better and prevent outdoor temperatures from penetrating through your walls, ceilings and floors.
Although most of us have a general idea of the value of having a well insulated home, it may not be so obvious as to how much a little insulation can help, especially if your walls and ceilings are not insulated at all.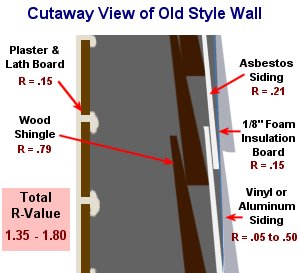 When looking at the average half-double home, your outside walls can very easily consist of a layer of plaster and lath boards, a four inch empty space, wooden shingles, tar or asbestos shingles and perhaps an overall layer of aluminum or vinyl siding. As you can see from the diagram, even if you round the values up, the wall R-Value might be as low as an R-2.
R values are values provided to materials with respect to how easily heat can pass though them. The easier it is for heat to pass through, the lower the value.
In newly constructed homes, the typical wall R-value is on the order of R-20 to R-30 ...10 times higher than many older homes! Based upon this alone, you could see how the walls of an older home could allow up to 10 times the amount of heat to escape, as compared to a newer home. This is why the simple act of insulating an older home can create a major impact on heating or cooling costs. Whether you do it yourself or hire a professional, your savings could be substantial.
Insulating the walls and attics/ceilings in older homes can be performed in a few ways:
Blown In Insulation - This involves drilling 2" holes into each bay within each wall and using a insulation blowing machine to force pulverized insulation into the wall cavity. This can be highly effective, but it's impossible to guarantee that the full wall cavity gets protected since any obstruction within the wall...piping, wiring, plaster and fire stops will prevent filling the cavity as tightly as possible. Even with its drawbacks, this could increase your R-Value from R-2.0 to R-13 and save up to 6 times the amount of heat that had easily escaped before.
Mild Renovation - This involves adding a 1" sheet of foam board (R-5)to your existing inside walls and then covering them with new drywall. It's not as effective as filling the wall cavity and requires that electrical devices get adjusted to reach the new wall dept, but it is very non-obtrusive and creates very little mess. Adding 1" foam board and 1/2" drywall would increase your R-Value from R-2.0 to R-7.5 and save almost 4 times the amount of heat that had easily escaped before.
True Renovation - This involves totally ripping down any old plaster wall sheathing and then properly sealing and insulating the wall space with insulation bats. Overall, this is the best option since this would allow you to fill the entire wall cavity and also seal any cracks, thereby reducing outdoor cold air infiltration as well. If combined with also replacing the siding, you could increase your R-Value from R-2.0 to R-20 and save up to 10 times the amount of heat that had easily escaped before.
Attic spaces vary greatly in double-homes and row-homes, but the same principles as described for wall insulating above could be applied. Most attic roofs follow the roof line and could simply be treated the same as a wall space where the only deviation is where there may be small crawl spaces around the borders of the roof where it meets the floor. These spaces could easily be insulated using either insulation bats or blown in insulation. Since heat rises up, it is very important to not neglect this step.
As part of any renovation, doors and windows that are older than 20 years should be replaced. Modern material and insulation factors can provide some amazing differences for eliminating cold migration while also increasing the quietness of your home.

Home Weatherization Starter Kit - Large

Our Home Weatherization Starter Kits help you to quickly order just the right collection of products necessary to weatherize your home for winter. Includes window seals, caulk, foams and associated material.


Battic Door Attic Stair Cover


This energy saving attic sealing kit includes stair cover, reflective shield, and our R-50 'Ultimate' insulation kit which maximizes the benefits by insulating your stair cover.


DAPtex Latex Insulating Foam Sealant

Seals out drafts, eliminates energy loss and prevents pest infiltration. Will not overexpand like polyurethane foam and is the best choice for sealing around windows and doors during installation.
Would you like to help others save energy? Then you might like to start a home based business weatherizing homes.
A home based business weatherizing homes is recession proof. You can make $1000 a week performing totally legitimate work by inspecting, sealing and insulating homes that are wasting energy. No certifications are necessary.
Only a professional contractor can accurately determine the condition or existence of the wall and ceiling insulation in your home.
Almost all contractors offer free estimates, so before you spend another day unsure about how much heat is flowing through your walls, find a contractor in your area by using the simple form below. Get the facts from a pro and then you can make an informed decision about how much you will benefit by making energy saving improvements within your home.
<- See 1st Step of Being Green
<- See 1st Step of Being Green
more energy saving products...