Using Solar Energy as a Renewable Energy Source
Solar energy has some restrictions that can make it difficult to implement when restricted to just the amount of available rooftop space of a home, but it can provide significant high output power that may help overcome other concerns.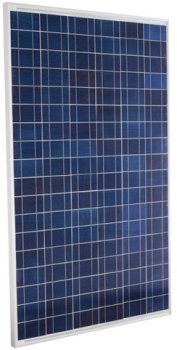 For any installation, the optimum location for the solar panels would be on the south / southwest side of the roof or property. Although direct sunlight is not necessary for the panel to generate solar power, direct sunlight creates the highest form of power, which means that anything, such as trees or tall buildings that prevent direct sunlight from hitting the panels, will significantly affect the panels ability to provide its optimum output power.
One drawback with solar power as you go further north, is snow cover and short winter daylight hours. Solar panels that are installed on a home's roof will not be readily accessible for removing snowfall. This means the snow will have to melt on its own in order for the panels to resume creating power. Since sunlight can penetrate a few inches of snow, you still may get some minor power output, plus the sun's infrared light may also heat the panels slightly, accelerating the melting of the snow cover.
Ideally, you would mount the panels at ground level on racks that pivot to track the sun and that are at least two feet above anticipated slow levels for your area. This option does require you to have land and that the view to the south and west is somewhat unobstructed by trees or buildings, but it would provide the optimal solution for obtaining the highest level of performance from your solar power system.
Overall, you simply can't lose when you choose to install a solar power system. If you engineer the job properly and install the panels in a way where they will have the optimum exposure to the sun, you will generate your own power, while helping to reduce the worlds carbon footprint. If we could step 50 years into the future, it's very likely that we would see solar panels or solar roofing shingles being used exclusively on all new home construction and retrofitted on most existing homes. Solar power used to be a science fiction idea, then a NASA method of powering satellites, then an expensive toy for the rich and now, now it's a reasonably affordable alternative to generate power from an unlimited and totally green source.
SunWize Grid-Tie Systems - Complete, Engineered, Pre-Packaged Solar Photovoltaic Systems
SunWize Grid-Tie Systems contain top quality, UL listed components. SunWize Grid-Tie System packages allow you to choose from a multiple selection of solar modules matched with a variety of grid-tie inverters. Every component needed for a successful installation is included in the package. In addition to modules and inverters, each package includes SolarMount flush PV racks, and necessary hardware and electrical components. The installer supplies the wiring from the solar array to the main panel and roofing anchors. Packages also include complete documentation, an installation guide and operation/owners manual.

CSI 2.6kW Grid-Tied Solar Electric System


GoGreenSolar.com CSI 2.6kW grid-tie solar PV power systems are designed for use on residential and small commercial buildings. They consist of 10 high quality Canadian Solar (PV) solar panels, a SMA inverter, array wiring, DC and AC disconnects, professional mounting structures to secure panels on the roof, electrical drawings, data sheets, warranties and instructions...


QuickMountPV 1.9kW Grid-Tied Solar Electric System


Quickmount 1.9kW grid-tie PV power systems are designed for use on residential and small commercial buildings. They consist of high quality Evergreen (PV) modules, a Fronius inverter, array wiring, DC and AC disconnects, UniRac and Quick Mount PV™ mounting structures to secure modules on the roof, electrical drawings, data sheets, warranties and instructions...


GoGreen 1.4kW Solar Cabana


Go solar without compromising the integrity of your roof. The Solar Cabana is a unique method of generating clean power from the sun while enjoying the shade Cabana provides. The GoGreenSolar Cabana is elegantly constructed with a rich look and feel. This 8 panel cabana produces 1,440 watts per hour while it is providing comfort for friends, family or customers to enjoy...


GoGreen 1.3kW Micro Grid Station


Concerned about a huge and costly rooftop solar project that is out of sight and budget? The Solar Micro Grid Station makes solar more affordable and practical. Installing a Solar Micro Grid Station is also pocket book friendly, since it qualifies for utility cash rebates and the 30% federal tax credit...


2.0 kW Solar PV Roofing Tile System


Solar electric systems should be efficient AND actually look good will encourage more people will adopt solar if the systems don't have the industrial look. Applied Solar Building Integrated Photovoltaics (BIPV) roofing tiles are specially designed to blend seamlessly with existing roofs, and come in three colors to coordinate with roof tile colors...


ReadySolar - Solar in a Box


Ready Solar is changing the way Solar Electric Systems are installed. Ready Solar's standardized residential solar electric systems are pre-engineered and pre-assembled, making them the easiest way to install solar.
<- See 3rd Step of Being Green
<- See 3rd Step of Being Green

more energy saving products...